Willcox Composite Hose
Composite Hose Product Range
Singaflex distributes a comprehensive range of composite hoses, specifically engineered to handle all kinds of transfer applications safely and easily. Willcox hoses are manufactured to stringent quality standards to ensure the highest levels of reliability and durability. Computer engineered to give an optimum construction for each application, the hose combines multi-layered polypropylene, steel wire helices, and liners were needed to ensure lightness, excellent flexibility and toughness. Both inner and outer wires are electrically continuous to prevent static discharge.
Willcox hoses offer a high degree of chemical compatibility whilst the 'no burst' nature of the composite construction eliminates potentially catastrophic ruptures.
Willcox For Hydrocarbons
Fuelmaster and Oilmaster hoses are specially engineered for the transfer of hydrocarbons, including oils, petrol, diesel, lubricating oils, paraffin, and 100% aromatics, in all kinds of transfer.
The range includes Standard Duty Fuelmaster for transferring light distillates such as petrol and diesel; Lightweight Fuelmaster for where exceptionally low weight is indicated; Standard Duty Oilmaster for black oils and heavier lubricating products and Heavy Duty Oilmaster for ship-to-shore, dockside, and general shipboard use.
Willcox For Chemicals
Willcox chemical hoses are chemically compatible and mechanically engineered to handle a wide range of hazardous chemicals.
Willcox hoses 3091, the original standard product with a working pressure of 200 psi and bore diameters between 1″ and 4″ is suitable for road, rail tanker, and in-plant applications. For lighter duties, Willcox chemical 4161 offers superior flexibility whilst heavy duty 4171 up to 10″, is suitable for very arduous conditions such as ship-to-shore.
Willcox For Cryogenics
Cyroflex hoses are designed for use with cryogenic products at temperatures down to -200°C or at pressure up to 25 bar.
Cyroflex 50 (4014) is suitable for transferring fully refrigerated conveyance such as propane and butane down to -50°C, as well as liquid ethane at -88°C and liquid ethylene at -105°C. Cyroflex 200 (4004) hoses are suitable for carrying liquid gases, such as liquid nitrogen and L.N.G (methane), at extremely low temperatures down to -200°C.
COUPLINGS
Singaflex offers a comprehensive range of end fittings for Willcox Hoses, normally supplied to customer requirements and available in a variety of materials, including carbon and stainless steel. The range also includes proprietary quick release couplings, adapters, and accessories such as blank caps and dust plugs.
Rope Lagging/Abrasion Collars
Our range of composite can be supplied polypropylene rope lagged or abrasion collars for insulation and protection from abrasion.
Gallery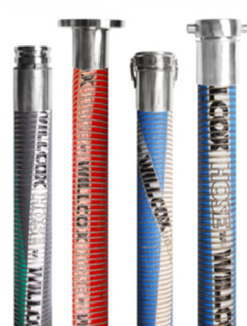 PDFs